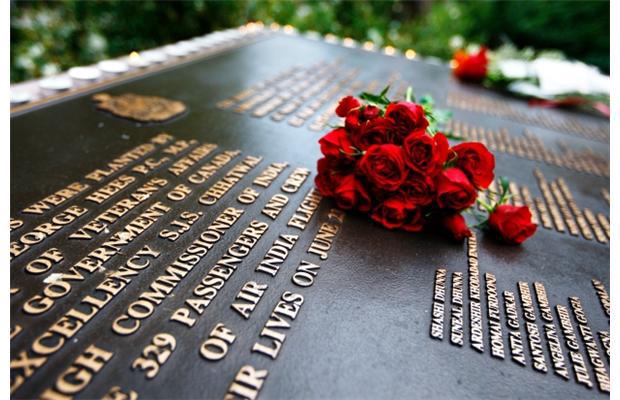 June 23, 2016 – The National Day of Remembrance for Victims of Terrorism is marked every year on June 23 in Canada on the anniversary of the bombing of Air India Flight 182 off the coast of Ireland. On this day, flags across Canada are flown at half-mast to honour the victims of the bombing, as well as other acts of terrorist violence that have taken lives of Canadians.  The CRCVC stands in solidarity with all those affected by extremist violence and acts of terrorism. There are memorial ceremonies today across Canada and in Ireland to remember the lives taken too soon:
Montreal
6:30 pm, at Air India 182 Memorial
Monk Island at Lachine Canal (near the Fur Trade Museum)
1255 Saint-Joseph Boulevard
Lachine, Quebec
Toronto
Two memorial services will be held in Toronto:
– 12 noon at Air India 182 memorial on the south lawn of Queens' Park &
– 6:30 pm at Air India 182 memorial
in Humber Bay Park East, Etobicoke
(South of Lakeshore Blvd at Parklawn Rd)
Ottawa
6:30 pm at Air India 182  memorial
In Commissioner's Park, near Dow's lake
Vancouver
6:30 pm at Air India 182 memorial in Stanley Park
Ireland
23 June, 8 am to 9 am – 31st anniversary service at Air India 182 memorial; one minute silence from 8.12 to 8.13 am; followed by prayers by the families present; speeches by dignitaries; refreshments.