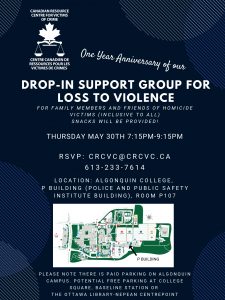 The Canadian Resource Centre for Victims of Crime is having its one year anniversary of its monthly drop-in support group for "loss to violence" on Thursday, May 30th, from 7:15-9:15pm, in room P-107 of the P Building at Algonquin College. The group is for family members, friends and close loved ones of homicide victims and is intended to offer peer support to those dealing with violent loss. Snacks will be provided. Please visit our Facebook page or Twitter for more details and updates if need be.
Please feel free to share event!
Please RSVP at crcvc@crcvc.ca.