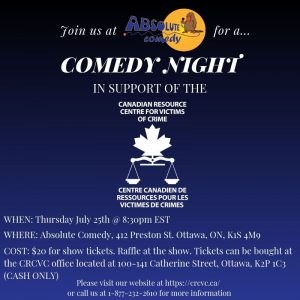 Join us at Absolute Comedy for comedy night in support of the Canadian Resource Centre for Victims of Crime!
Tickets are $20/person, as well as a raffle draw on-site.
Tickets can be purchased at the CRCVC office location at 100-141 Catherine Street, Ottawa, K2P 1C3 (cash only!).
Email us at crcvc@crcvc.ca for more details!