Ashton James Dickson Memorial Fund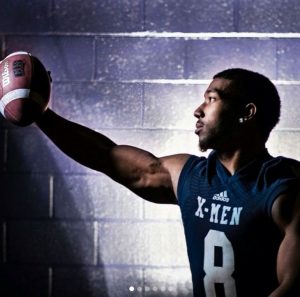 On June 26, 2017, 25-year old Ashton Dickson was shot and killed at the Mingle Room Bar on Rideau Street in Ottawa. Ashton was a wonderful man, a superior athlete, and loving friend. He had the highest personal ethics and was loved by everyone who knew him. He stood up for his friends and the underdog. He had a strong sense of integrity and wanted everyone to be treated with kindness and compassion.
Ashton had dreams of playing professional football in the CFL. He was an All Canadian running back with the X-Men at StFX University in Antigonish, Nova Scotia, finishing his university career there as the school's all-time leader in rushing yards. The the 2017 X-Men season will be dedicated to the memory of Ashton. He did not deserve to die the way he did.
Ashton was left bleeding in the street after an altercation in the bar and sadly succumbed to his injuries. His senseless homicide has left an enormous void in his family and the community. The Ottawa Police have not yet laid charges in this case. The Dickson family wants more than anything for those with any information related to Ashton's death to come forward. They fear for public safety given what has happened. Each murderer who is not caught is walking the streets, free to kill again.
It is difficult to live with the knowledge that someone responsible for Ashton's deliberate, violent death is at large. The family lacks answers to what happened or why. The impact of Ashton's murder remains an open emotional wound. Without an arrest in the case, the family is left searching for answers, they may lose faith in the justice system or trust that the investigation is ongoing. It may be more difficult to deal with issues such as regaining a sense of control and safety in their lives.
In order to make meaning of Ashton's untimely passing and to give back to the Ottawa community, Ashton's family is collecting donations in order to help underprivileged youth from 12-18 years old have access to sport. Funds donated to the CRCVC – Ashton James Dickson Memorial Fund will be earmarked to help young athletes in financial need to play club level football in the Ottawa area. Thank you for supporting young football players in Ashton's memory.
2019 Memorial Fundraiser: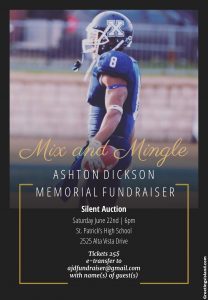 Please use the form below to donate to the Ashton James Dickson Memorial Fund: