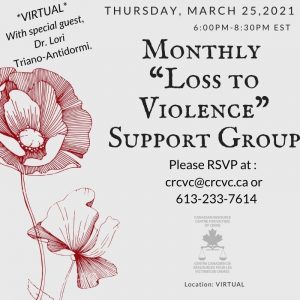 Join us this Thursday, March 25th at 6pm EST for our Loss to Violence Support group.
This session, we will have special guest, Dr. Lori Triano-Antidormi!
To sign up, or for more information, please email us at crcvc@crcvc.ca or call us at 613-233-7614.
Dr. Triano-Antidormi is a Registered Psychologist in the province of Ontario. She obtained her Ph.D from York University in 1998. Dr. Triano-Antidormi currently works in private practice in Hamilton, Ontario. She has particular interest and expertise in the area of grief and trauma, providing treatment to individuals who have been impacted by a violent crime, a traumatic incident, and/or who have experienced a significant loss. She is a former Board Member of Niagara Victim Services and previously served as Professional Consultant to Bereaved Families of Ontario, South Central Chapter. Dr. Triano-Antidormi has given many invited presentations on the issues of grief, trauma and victim's needs, and she has been called upon by the media to speak on these topics. She has been open in sharing her own personal experience of traumatic bereavement and interaction with the criminal justice system.