TEXT AND LIVE CHAT!
Victims/survivors, their friends, and families can reach out through our texting service AND live chat system:
When a trained CRCVC staff member is available to help:
Text: You can text us at 613-208-0747 and we'll reply shortly via text.
Chat: The icon on the bottom right-hand side of the website will say 'CHAT WITH US' – 'NEED HELP? Click to Chat!' Click on the talk bubble icon below and a new chat window will open. Sometimes, a chat window will open up and let you know we are there.
Currently, regular support through text and online chats are available during regular office hours: Monday through Friday: 8:30am – 4:30pm EST (English, French, Romanian), as well as evenings (see below for schedule).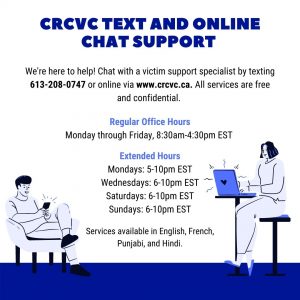 Toll free information & support line
Victims and survivors of interpersonal violence and their families can call 1-877-232-2610 for information about the Canadian criminal justice system or for assistance in obtaining services and accessing resources. We offer emotional support to callers from 8:30am – 4:30pm (EST) Monday – Friday.
Advocacy
We work with all levels of government in Canada to provide submissions, presentations, information and recommendations in respect of the interests of victims of crime. We can also support victims individually to help them find resources, fill out paperwork, and explain the different options available to them to empower decision-making.
Information Resources & Research 
We conduct research in the field of victimology in order to offer quality resource materials to victims of crime, service workers across Canada and the public. We disseminating knowledge to the public through reports and publications in the media, social media, our monthly newsletter and website. We also work to promote and enhance the interaction and exchange of information and perspectives among agencies and groups within the Canadian Criminal Justice System, and the international victim services community.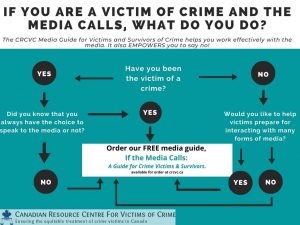 Support Groups
Join us for our monthly virtual "Loss to Violence" support group, every last Thursday of the month. The group is for family members, friends and close loved ones of homicide victims and is intended to offer peer support to those dealing with violent loss. Please RSVP by phone at 613-233-7614 or via email at crcvc@crcvc.ca.
English only.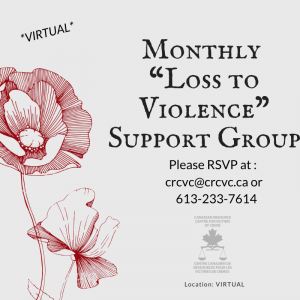 Follow us on Facebook, Twitter or Instagram for more details and updates.
Public Education
As well as speaking in the media, we regularly conduct workshops and presentations at colleges, universities, community events, and conferences in respect of the issues affecting victims of crime.
Memorial
We provide long-term support and assistance to Next of Kin of fallen police and peace officers and coordinate events for those families attending the annual Canadian Police and Peace Officers' Memorial Service to honour their fallen loved ones. As well, we act as a liaison between victims/survivors and various police services and associations; providing assistance and support.
Outreach
We proactively reach out to survivors of violent crime in Canada in hopes of fostering a helping relationship with those victims that may not be aware of the services available to them. We also assists victims and survivors to connect with others who have been similarly victimized.
Corrections & Parole
We assist and support victims to exercise their right to information about the offender who harmed them. We offer a number of services including registration assistance, representation (victims can appoint us to receive notifications on their behalf), accompaniment to parole hearings, and advocacy on their case.