Monthly Loss to Violence Drop-in Support Group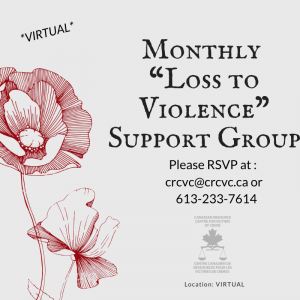 Join us for our monthly virtual "Loss to Violence" support group, every last Thursday of the month. The group is for family members, friends and close loved ones of homicide victims and is intended to offer peer support to those dealing with violent loss. Please RSVP by phone at 613-233-7614 or via email at crcvc@crcvc.ca.
English only.
---
Past Events
"Resisting & Transforming Rape Culture:
Innovative responses to oppression, suffering and trauma"
with Dr. Vikki Reynolds, PhD, RCC. Join us for a two-day workshop where we will explore rape and violence against women, investigate the concept of consent, ethical concerns and social responses surrounding violence against women, and address the importance of language from a social justice frame.
When: May 12 & 13, 2016
Where: Ottawa Police Association Lounge
141 Catherine Street, Ottawa, ON (2nd floor)
Fee: $350 registration fee
*warm lunch & refreshments included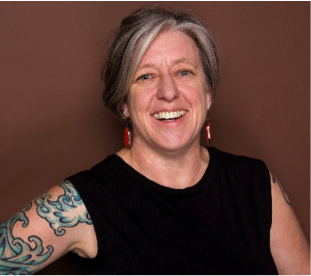 Vikki Reynolds, Ph.D., R.C.C.
Vikki Reynolds is an activist/therapist who works to bridge the worlds of social justice activism with community work & therapy. Vikki is a white settler of Irish, Newfoundland and English folks, and a heterosexual woman with cisgender privilege. Her experience includes supervision and therapy with refugees and survivors of torture, sexualized violence counsellors, mental health and substance misuse counsellors, housing and shelter workers, activists and working alongside gender and sexually diverse communities. She has written and presented internationally on the subjects of resistance to 'trauma', ally work, justice-doing, a supervision of solidarity, ethics, and innovative group work.
What is the purpose of the seminar?
In this experiential workshop Vikki will address our collective work to resist and transform Rape/Violence Against Women Culture. We will address the structural oppressions that create the conditions for this on-going oppression, and consider creative responses to both the people who are victimized by sexualized assault, and the people who commit these assaults. We will discuss the ethical stances for this work that hold the people who have suffered assault at the centre, alongside a call to accountability, responsibility and dignified and compassionate responses to people who enact violence. We will look closely at the language that is used to disguise the violence of sexualized assault, and the liberating ways we can use language accountably and effectively. There will be practice examples and stories and writings from clients who have consented to share their stories in an effort to contribute in resisting and transforming rape culture.
Who should attend?
The training is for human service workers – counsellors, therapists, nurses, justice and court workers, lawyers, victims' services workers, transition house workers, social workers, child protection workers, police, journalists, researchers — and anyone in the role of helping others, particularly those who have experienced violence, mistreatment or other forms of violation.
For more information, please contact Heidi Illingworth
Email: heidi@crcvc.ca or 1-877-232-2610
---
Victim Impact Education and Offender Re-Entry: A Benefit to Public Safety?
Save the Date!
March 10, 2016

Join us for a FREE Discussion Forum –
Where: Ottawa Police Association Lounge (141 Catherine Street, 2nd floor)
Time: 9:30am to 12noon
Crime has a harmful impact not only on individuals but on entire communities and is often felt long after the formal criminal justice process ends. Victim impact education is sometimes offered in correctional institutions to hold offenders accountable for their crimes and give them a deeper understanding of the impact of their criminal activity. It is thought that these programs can reduce offending which is beneficial to public safety. Join us for a FREE event where a panel of experts, including a mother whose son was murdered, will discuss the topic of victim impact education in Canadian penitentiaries. Some questions to be answered:
Do victims benefit if an offender gains empathy?
Is public safety increased when an offender addresses the trauma they have inflicted upon others?
Can offenders truly gain insight about how they hurt their own families, and very importantly, their victims' families?
Does developing empathy mean that offenders will avoid returning to criminal behaviour when they are released from prison?
Please join us to discuss this important topic. The panel will include:
Carolyn Solomon, Chair of the Victims Advisory Committee to CSC/PBC in Ontario/Nunavut region & mother of a murdered son;
Cindy Ayala, Project Manager, Enhancing Empathy for Victims and Families of Offenders,The Church Council on Justice and Corrections;
A federal offender currently incarcerated in Pittsburgh Institution.
*This event is possible with funding gratefully received from Public Safety Canada Policy Development Contribution Program*