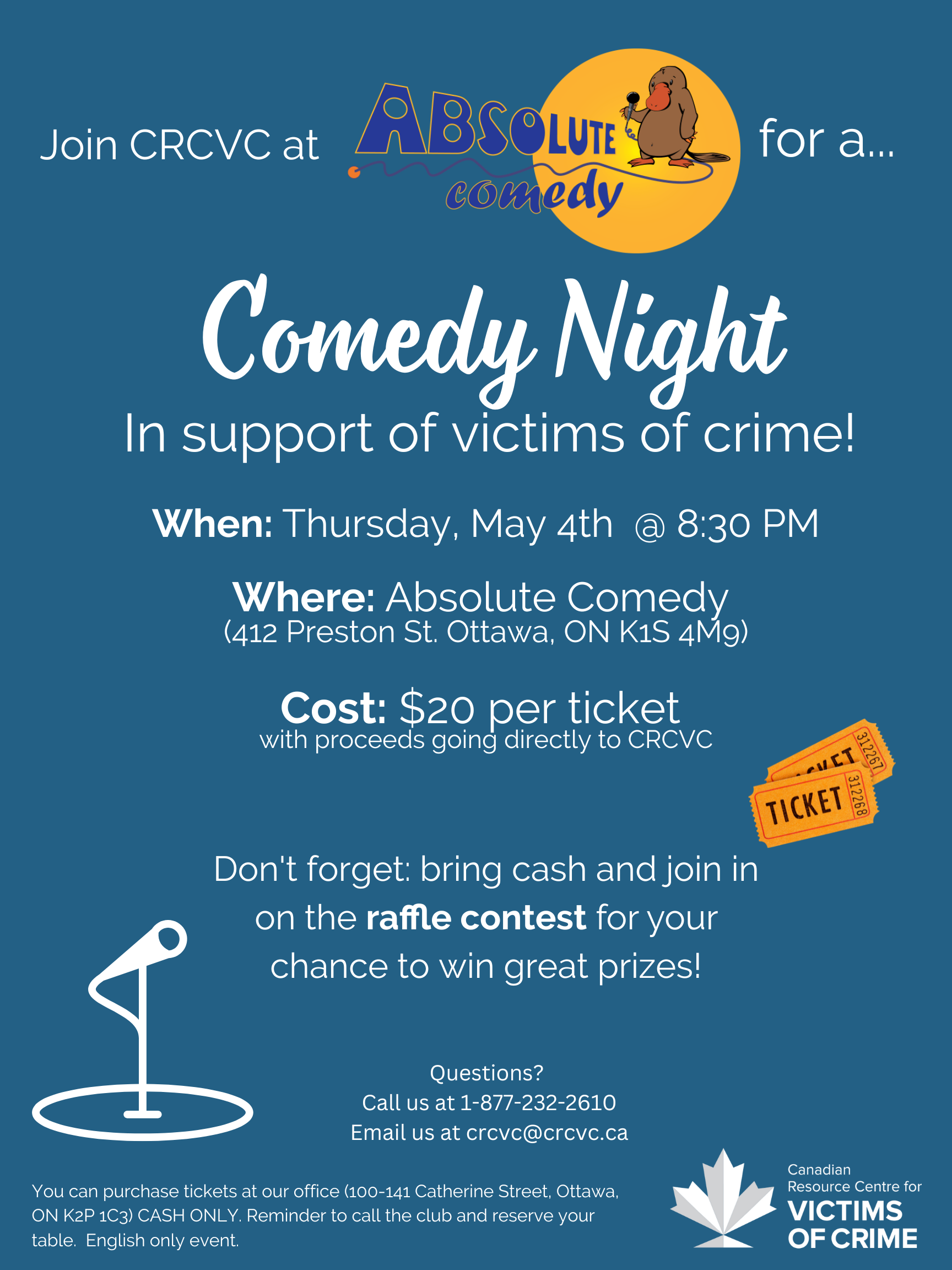 CRCVC is excited to announce its comedy night fundraiser on May 4th, 2023. The evening will commence at 8:30 pm and feature Headliner Olivia Arrington and MC Julien Dionne with Nick Peron.
There will also be a raffle, thanks to our generous sponsors and donors, so bring cash and prepare to win some awesome prizes!
You will be able to purchase raffle tickets before and throughout the night. Winners will be chosen at the end of the night.
Rules
Once your ticket is purchased, you must phone the comedy club (Absolute Comedy) to reserve a table. Make sure that everyone who makes a reservation lets all the people in their group know the name of the reservation is under.
Anyone who does not call to reserve a table will be assumed to not be attending the event. In such a case, the comedy club will book the remaining tables themselves.
The deadline to reserve your table is one week before the event (April 27th).
You must show up 15 minutes before the event (8:15 pm) or you are at risk of losing your reservation.
When you arrive at the comedy club, please present the box office with your ticket and reservation name.
All proceeds made from the show and raffle tickets will go directly to CRCVC to help us continue the work we do in supporting victims of crime.
Don't forget to bring cash to purchase your raffle tickets!
There will be food and drinks at extra cost, sold by the comedy club. These proceeds will NOT be going to us.
Please note, CRCVC does not have control over the content; sets may contain explicit/mature content.
Can't make it but still want to support? Buy a ticket and gift it! Or simply donate by visiting www.crcvc.ca/donate