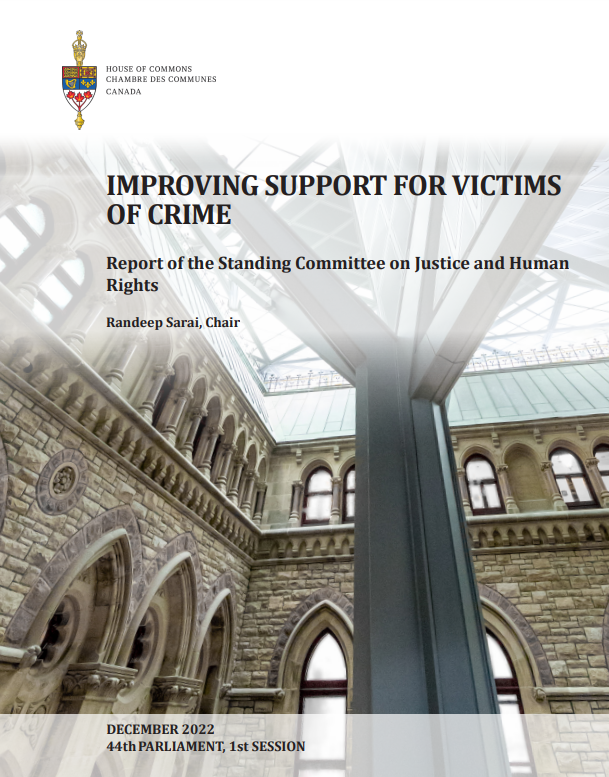 The report of the Standing Committee on Justice and Human Rights "Improving Support for Victims of Crime" has recently been concluded by the House of Commons.
Between June 3rd, 2021 and October 17th, 2022, the Committee held nine meetings to hear evidence from a wide variety of witnesses. In total, the Committee heard from more than 30 witnesses, including CRCVC'S Executive Director, Aline Vlasceanu, and received 10 briefs.
The Committee held these meetings on the status of victim's rights in Canada to address "the shortcomings of current legislative and policy measures available to victims of crime".
The report includes a total of 13 recommendations, one being to amend the Canadian Victims Bill or Rights in order to establish a right to access victim assistance and support.
Understanding that services need to adapt to diverse victims' needs is crucial in progressing victims' rights and access to services. Not only is there a lack of accessible services to victims from marginalized groups, but the few options which do exist are stretched thin.
According to CRCVC Executive Director, Aline Vlasceanu, "adequate resources is the biggest hurdle to accessing mental health supports". She added that "long waitlists, minimal compensation and the limited number of therapy sessions available to each victim are barriers for victims trying to access services".
With this report now concluded, the Committee hopes to have addressed the key question of "how do we actually hold the officials and the system accountable for ensuring that victims' rights are delivered to them in a practical way?".
To read the full report, please click here.