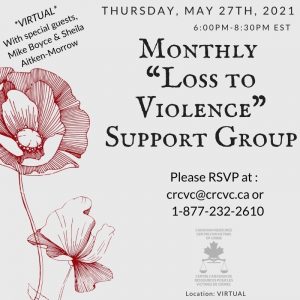 Join us Thursday, May 27th at 6 PM EST for our Loss to Violence Support group!
This session, we have two special guests: Mike Boyce, Assistant Crown Attorney – Ministry of the Attorney General and Sheila Aitken-Morrow, A/ Manager, Victim/Witness Assistance Program.
Our guests have been working with victims of crime, and surviving family members, in various capacities, for the past 25 years.
To sign up, or for more information, please email us at crcvc@crcvc.ca or call us at 1-877-232-2610